Cloud Covered.
No Monthly Fees Required for up to 3 cameras.
Store video on a local Micro SD Card and use advanced Cloud analytics features for free for up to 3 cameras. Access your videos remotely, download and share videos any time.
If the Internet goes down the video will be saved on the Micro SD Card and synchronized with your Cloud.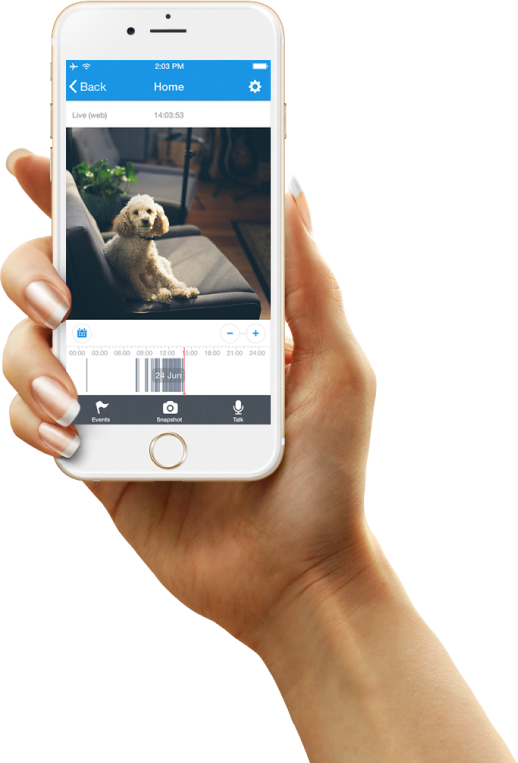 Bunch o' Features
Oco comes with a whole bunch of free features
Free live streaming

Smart alerts

Notification scheduling

Night version

Two-way talk

Automatic updates
Simple Cloud Video Surveillance
Use Oco to protect your home or your business.
Easy to use Oco App

With more than 40,000 users, Oco is one of the most reliable Apps for Cloud Video Surveillance. You choose between our iOS, Android or Web Apps.

Multi-User Access

Whether you have several employ-ees who need access to the security cams at once or a gigantic family around the world — Oco lets you give access to anyone you want.

Top Security

Our top priority is your top security. With data all encrypted, you can store your archive on a local machine or turn up the safety by keeping it in the secured Cloud.
Extended plans
There are no monthly fees required for up to 3 cameras. But what if you want more than basic features? You got it! Oco offers extended Cloud recording plans that let you store full event video recording for 10 or 60 days.
Cloud recording
10-seconds previews stored in the cloud for the past 5 days
Cameras Per Account
up to Three
Event videos
10-seconds previews in the Cloud, Full video on the Micro SD card (Micro SD card is not included)
Alerts
Notification scheduling
Constant Cloud Recording
Two way talk
Cloud recording
Keep constant recordgins or sound/motion triggered footage from your camera in Cloud for 10 days
Price
$8.99 / month
$89 / year
Cameras Per Account
A lot. Like really a lot (Up to a thousand)
Event videos
Full-length recording (constant or triggered) for the past 10 days
Alerts
Notification scheduling
Constant Cloud Recording
Two way talk
Cloud recording
Keep constant recordgins or sound/motion triggered footage from your camera in Cloud for 60 days
Price
$29.99 / month
$299 / year
Cameras Per Account
A lot. Like really a lot (Up to a thousand)
Event videos
Full-length recording (constant or triggered) for the past 60 days
Alerts
Notification scheduling
Constant Cloud Recording
Two way talk
Prices are listed per one camera